This post may contain affiliate links. Please see my full disclosure policy here.
While we're waiting out this Coronavirus quarantine and trying to figure out how to survive, we may also be having to cook a lot more than we're used to. I know I have been. People want three meals a day and I'm used to just a quick breakfast and a grab and go lunch for myself. Here are a few of my favorite kitchen gadgets that might help you through the next weeks or months, but you'll be glad you have them after this is over because they'll make your life so much easier.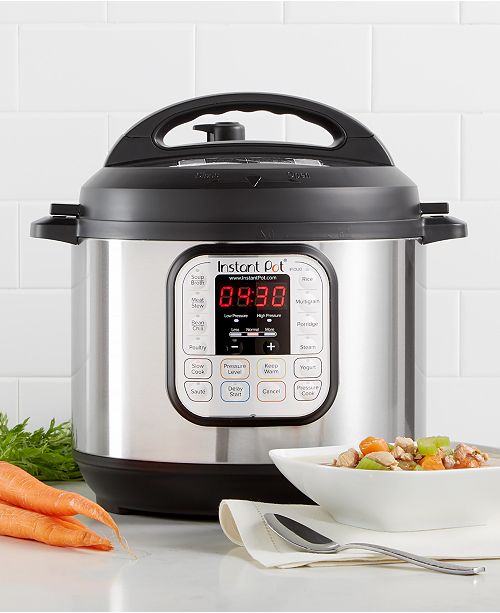 The Instant Pot is a huge time-saver for me. It makes life easier because you don't have to stand over the stove watching a pot of soup or a pasta dish and you can have a pot roast ready in about an hour. With the kids home, you're probably spending a lot of time with them. Check Pinterest for some great Instant Pot recipes to help you get going on your pressure cooker adventure. Even when life is back to normal, I guarantee you'll still be using your Instant Pot.
I was going to suggest Amazon, but there is almost a month wait on an Instant Pot from them. Macy's has a few that will ship out within a few days.
You can also find an Instant Pot at Kohl's and at Target. (You can get store pick-up if you don't want to wait for shipping.)
I'm also a huge fan of the Ninja Foodi. I have both the Pressure Cooker/Air Fryer combo as well as the grill. Kohl's has both in stock right now, plus there are coupons to use. The pressure cooker/Air Fryer model is a step beyond the Instant Pot because you can pressure cook and then brown right in the pot. I love to use mine for making whole chickens. They are done and perfectly browned in under an hour. My husband says they're the best chickens I've ever made!
If you have teens in your house, the air fryer part will be a life saver. My college age kids use it constantly for snacks. Just teach your kids to be safe and you will probably be able to talk them into making their own lunch.
Prices will be a little different, but you can also pick one up at Target, Amazon, Walmart, and Macy's. Remember, at Walmart and Target, you may be able to do same day pick up if you don't want to wait.
I realize these are not cheap items and if you are struggling, you'll be making do with what you have. If you can afford to invest in one of the above, they're something you will use for a long time to come.
This post may contain affiliate links. Please see my full disclosure policy
here.