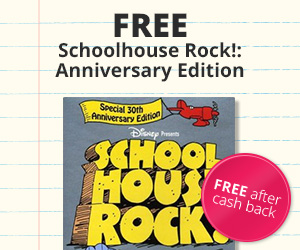 Do you remember the School House Rocks videos from when you were a kid? They're still as fantastic as ever and right now you can get the Schoolhouse Rock! Anniversary Edition FREE after cash back. 
Here's what you need to do to get it FREE!
1. Simply click the "Get Offer Now" button to go to the Walmart website. 
2. Purchase a $8.99 Schoolhouse Rock!: Special 30th Anniversary Edition.  
3. Shortly after you've made your transaction, you will see the transaction in your TCB account.
4. Once confirmed, your transaction will become payable within 14 days.
This post may contain affiliate links. Please see my full disclosure policy
here.