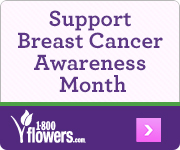 Wow Her! Order your thoughtful flowers & gifts by February 12th, 2013, and get FREE SHIPPING/No Service Charge only at 1800flowers.com!
Use code LOVE2013 at checkout.
The free shipping/no service charge will save you about $15 on your order! I often hesitate to order flowers online because of the service charge, so this is a nice thing to see!
This post may contain affiliate links. Please see my full disclosure policy
here.