This post brought to you by Sharper Image. All opinions are 100% mine.
If you're looking for a unique gift, look no farther than Sharper Image.  Sharper Image is the website I turn to when I'm looking for a creative, unique, quality gift that also serves a purpose. It's kind of an online store(or you can shop via their print catalog) for all the things you wish you'd thought of first!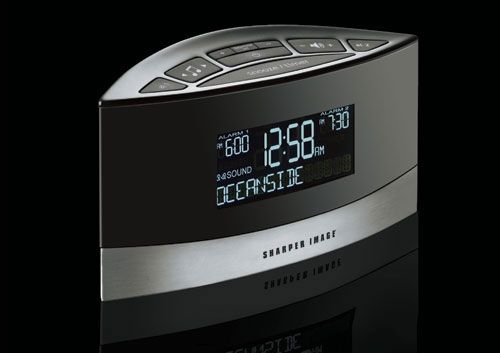 Like the Sound Soother. Don't you wish you'd thought of an alarm clock that lets you wake up to something besides a horrible buzzing sound or blasting music?
With the Sound Soother, you can wake up to the sound of rain, or a bustling city. It features a brushed metal finish that looks great on any nightstand or table, and features an extra large display for sound description and digital time. The Sound Soother® plays continuously, and features an Auto-off timer you can set for 15, 30, 45 or 60 minutes. Sooth yourself to sleep. I've been having trouble sleeping, and I think this might really help me relax at night.
The Bluetooth Speaker lets you take your music with you ANYWHERE! It connects wirelessly with smart phones, laptops and most notebooks and works up to 30 feet away using your device to control music. It has  powerful speaker output with integrated subwoofer for expanded bass response. Plus other Bluetooth features you already know like hands free conference calling with any smart phone.
Since my family and friends know I'm not happy without my music, this would be perfect for me, too!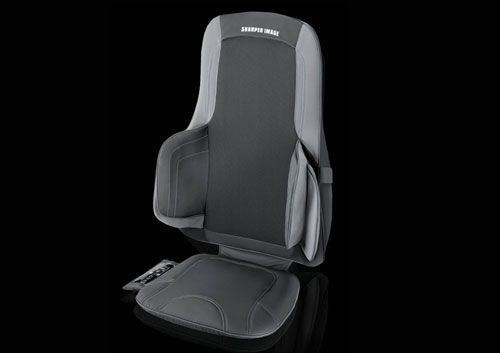 Personally, for me, I would LOVE this Back Massager.  I sit at my desk so much every day that sometimes my back gets a little achy! This would be perfect for working out the kinks.
Select from deep-kneading shiatsu or rolling massage as four independent rollers travel up and down your back. Ahhhhh! Sounds perfect to me! You can also use Spot Shiatsu and Perfect-Fit™ to customize the massage to your back and height. Plus it's heated for a deeper, more relaxing massage.
That sounds heavenly!  I can see myself relaxing at my desk while I get a nice heated massage!  Any of these items is a great holiday gift, but I think I'd like the back massager.
Which of these must have holiday gifts were on your list? If they weren't already on your list, which would you like to have?
This post may contain affiliate links. Please see my full disclosure policy
here.